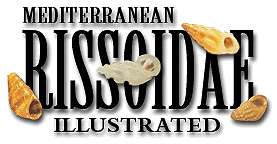 Most complete and up-to-date CATALOGUE in the World
on the Mediterranean RISSOIDAE:
145 drawings, hand made by an expert
of these species, that will let,
whoever doesn't know this attractive
family, identify all species
officially listed until today.
ADDITIONALLY, over the Catalogue, this site
is the starting-point of the World-Wide DATABASE
on the Mediterranean Seashell EXCHANGE;
ALL the lovers and experts are heartely invited to
send by E-mail or Fax
their seashell's list to be Exchanged, and to be
immediatly inserted on line. The purpose is
to create a complete and up-to-date DATABASE,
inorder to discover the owner of
that shell we looked for so much time!!
ALL THIS FREE !!
HAVE A GOOD WORK...